S4:
A new perspective
on your music collection
S4 is Audial's latest reference TDA1541A based D/A converter. With plenty of Audial unique solutions, the S4 produces the ultimate sonic experience. Its highest resolution and definition, and most pleasing tone at that, will bring you a new perspective on your music collection. And on the music, generally.
● Non-oversampling, real multibit TDA1541A DAC, with synchronous DEM clocking
● Master USB device ("asynchronous USB"), up to 384 kHz capable, with two low jitter clocks and galvanic isolation
● True 75 Ohm BNC S/PDIF input, with differential input termination
● Audial proprietary, high performance, zero feedback, hybrid output analog stage
● Output impedance 3 Ohm plus 23 uF coupling capacitors, or 30 Ohm (transformers coupled, optional)
● Two pairs of outputs, any can be either RCA or XLR (XLR requires transformer coupling)
● High quality parts, including Renesas and Toshiba semiconductors, Rubycon ZA capacitors, Allen Bradley and Vishay carbon resistors
● Ten fully separate supplies, with three stage common mode filters, and low noise, fully discrete, zero feedback regulators
● Extremely optimized layout
● Mains isolation transformer, acting as a mains filter and balanced power source
● Quality aluminum chassis
Now with toroidal output transformers
High performance, low distortion, low impedance, quite unique devices, designed for our needs by Menno van der Veen, and produced by Trafco. Their low external field ensures unbeatable resistance to environmental noise – so they clean out the artifacts caused by the system grounding issues, not picking up the noise on their own at the same time.
Graphs
Harmonic distortion, capacitor coupled output, 1 kHz, -6 dBFS dithered sinewave, THD = 0.0029%
Harmonic distortion, transformer coupled output, 1 kHz, -6 dBFS dithered sinewave, THD = 0.0043%
Harmonic distortion, capacitor coupled output, 1 kHz, -60 dBFS dithered sinewave, THD = 0.9%
Harmonic distortion, transformer coupled output, 1 kHz, -60 dBFS dithered sinewave, THD = 0.9%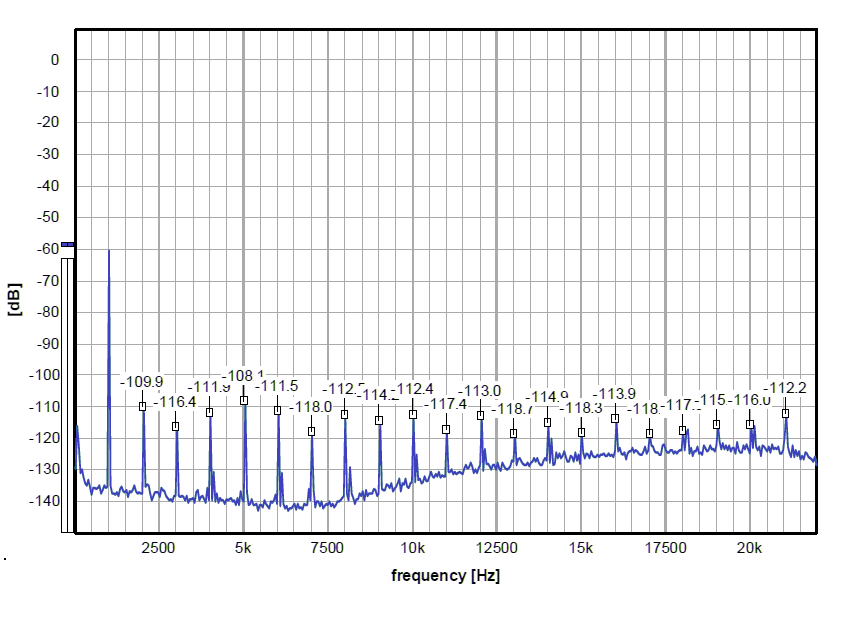 Intermodulation distortion, capacitor coupled output, CCIR IMD = 0.006%
Intermodulation distortion, transformer coupled output, CCIR IMD = 0.005%
Square wave 100 Hz, capacitor coupled output
Square wave 100 Hz, transformer coupled output
Square wave 11025 Hz, capacitor coupled output
Square wave 11025 Hz, transformer coupled output
S/PDIF stage bit clock 2.822 MHz, FFT analysis, ± 50 kHz span
USB stage bit clock 1.411 MHz, with master clock 22.5792 MHz, FFT analysis, ± 50 kHz span
USB stage bit clock 1.411 MHz, with master clock 11.2896 MHz, FFT analysis, ± 50 kHz span
Recommended reading:
Another story about TDA1541A: 384 kHz